Car and Bike Wash Sponge
Rs. 320.00
(inclusive of all taxes)
FREE Delivery.
customers are viewing this product
Looking for the best car wash sponge in India? Your search is now over thanks to the WaveX Car Wash Sponge. 
1. Extra large figure 8 shaped cleaning car wash sponge that has been specifically designed for vehicle washing. Could also be used for other home washing purposes.
2. Soft yet sturdy car and bike wash sponge that effectively removes stubborn dirt and debris from vehicle surfaces such as its painted body, windshields, side view mirrors, head and tail lights, indicators, alloys/ rims etc. Safe for application on clear coats, paints, glass, etc. Will neither leaves swirls/ scratches or damage vehicle's exterior body or components
3. Car wash sponge easily cleans dust, dirt, muck, grime, bird droppings off of the exterior surfaces of your cars or bikes
4. Car wash sponge's contoured shape makes it easy for both right and left handed users. It has been specially designed in such a manner that it will take minimal efforts to clean your vehicle thus ensuring that you would feel less fatigued after washing your vehicle 5. Reusable and easy to clean. Just soak it in luke warm water mixed with soap for a few minutes and hand wash
Customer Reviews
11/28/2022
Dinesh R.

India
Value for Money
I have recently purchased a sponge and horse brush, both are good to use
Thanks for your positive review!
01/07/2022
Prasad J.

India
A Must have Sponge
Since it is produced by the great Wavex Team, undoubtedly, I found the sponge is very significantly different than the one we find in Market. Specifically designed for the ULTIMATE CLEANING RESULTS. Thank You Wavex, kèep it up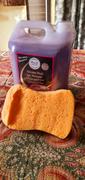 Thanks for your positive review and a 5-star rating
01/07/2022
Gurwinder S.

India
Very nice
Very good product
Thanks for your positive review and a 5-star rating.
08/27/2021
Sanjay S.

India
Great Product
Had a great experience with the very 1st wash that i did with this wash Sponge. It large enough to easily wash the car in very less time and its soft enough that it do not scratch the paint.
Thanks for your positive review and a 5-star rating.
05/14/2021
Aditya G.

India