Ceramic Wash Car Shampoo, Specially for Ceramic Coated Vehicles, Maintains Life of Coating
Rs. 8,386.00
Rs. 422.00
(inclusive of all taxes)
FREE Delivery.
customers are viewing this product
 Highlights:
Scientifically developed Graphene Ceramic Wash Shampoo infused with graphene resins.
Powerful vehicle wash shampoo that removes dust, dirt and grime without spoiling or harming your vehicle's existing coating, wax or sealants.
Recommended washing shampoo for ceramic coated vehicles. Removes unwanted contaminants without effecting the ceramic coating.
Super foam producing high suds shampoo that can be with manual bucket washes and foam cannons.
Available in 650 ml, 5 ltr and 20 ltr pack sizes.
Description:
Are you one of those vehicle owners that have spent thousands on a ceramic coating job on their vehicle but are absolutely afraid to damage its effects by using any sort of auto care and maintenance product that could potentially strip the coating off of its surface?
Or, are you one of those vehicle owners that are guilty of using regular vehicle wash shampoos on their ceramic coated vehicles?
If you fall in either one of the aforementioned categories, then look no further as WaveX Auto Care presents the all new WaveX Graphene Ceramic Wash Shampoo.
Graphene coatings are coatings with graphene molecules grafted onto the ceramic backbone. The Ceramic molecules bond with the car and the graphene portion of the molecule is on top, forming the surface of the coating. Essentially, they are ceramic coatings with improved characteristics.
The WaveX Graphene Ceramic Wash Shampoo is an impeccable graphene coated vehicle washing solution that combines the properties of a foaming degreaser and shampoo which aids in the removal of unwanted contaminants without harming your vehicle's existing coating, sealant or wax.
It is also a shampoo that is recommended for revitalizing and maintaining the coatings that have been produced from our range of professional auto detailing products such as polishes, waxes and detailing compounds. Available in a 650 ml pack size the WaveX Graphene Ceramic Wash Shampoo helps to decontaminate the coatings by removing harmful contaminants that would damage the coating's durability and interfere with its hydrophobic and self-cleaning properties.
What's wonderful is the fact that this revolutionary auto care product that has been manufactured by WaveX Auto Care is both bucket wash and foam cannon compatible.
To use the WaveX Graphene Ceramic Wash Shampoo for bucket washing add approximately 20-25 ml of the shampoo to a washing bucket filled with approximately 4 ltrs of water. Stir the shampoo solution well till it foams and then apply and wash your vehicle using a wash mitt or the WaveX Microfiber Cloth. For foam cannons, use the shampoo in a 1:9 ratio (1 part shampoo and 9 parts water)
Customer Reviews
01/03/2023
Mahender M.

India
Good
It gives my car ceramic new boost
12/04/2022
Vivian P.

India
Value for money
Good product hay use karke acha lagha
Thanks for your positive review and rating!
12/02/2022
Ak A.

India
Amazing Product
It's an excellent shampoo maintains the slickness of a coated vehicle!
Thanks for your positive review and rating!
11/14/2022
Mahashish S.

India
Good
But i need at dealer rate for my shop
For all dealership and distributorship inquiries, please write to us @ contact@wavexautocare.com
01/27/2022
Prasad J.

India
New Sparkling Wonder ✨️
Used this shampoo without my regular foam canon and found that it shined my car as it was detailed by professionals. Wavex has greatly invented all its detailing products that take us to the Shining impressions. Thank You Wavex for this New Car Shining Shampoo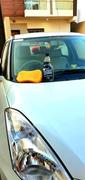 Thanks for your positive review and a 5-star rating.